United in Passion.

ONE PAYER.
We inspire world market leaders and act on a global scale in a familiar atmosphere.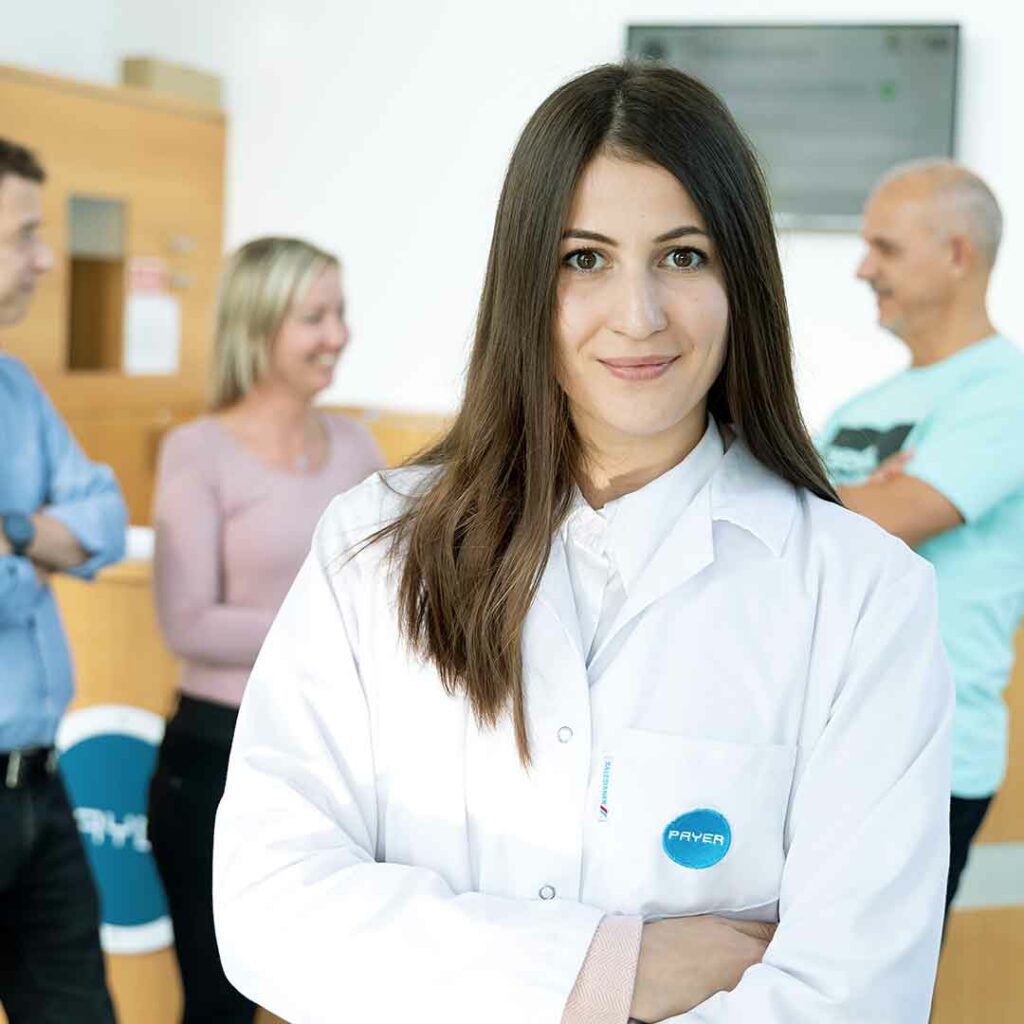 As PAYER is owned by a family and has locations as well as customers all over the world, employees get the possibility to act in a global and – at the same time – in a familiar environment. The daily work is driven by TEAM SPIRIT and PASSION TO WIN. Employees share knowledge and ideas with each other and interact with respect. Furthermore, PAYER employees are determined to go the extra mile and want to accelerate the customers' growth.
PAYER offers the option of flextime, taking time off in the form of individual hours, half and full days, as well as increased home office options, depending on individual needs.
PAYER employees get the possibility to buy food at each site and to spend their breaks in the respective canteen. Depending on the site, employees can order food from a delivery service at a central point of contact, buy sandwiches and other snacks or rather order food at the site.
PAYER has a clear focus on employee training and development at all levels. This includes, among other things, the PAYER Academy, partnerships with universities and career development and opportunities.
Parking &
Public Transport
At each site, employees have the possibility to park their cars in front of the company. Furthermore, the locations can be reached by public transport on a regular basis.
PAYER is a company with a family atmosphere, where employees are not just a number and good cooperation is a top priority.
Inter­generational working
Employees of all ages share knowledge and ideas with each other and interact with respect.
Operational health management
PAYER offers extensive occupational health management to ensure the health & safety of our employees. This includes a company doctor, vaccinations (flu), a health route, eye tests, the possibility of an on-site massage and the "healthy month of May".
At PAYER, we host exciting cross-site events, such as the PAYER Technology & Innovation Day, as well as internal Christmas parties and joint celebrations at the sites.
PAYER's success – it's all about people! Employees have the possibility to contribute their own strengths and their PASSION TO WIN to the company's success.
PAYER Insights: Interview Student Employee | Katharina Lang
PAYER Insights: Interview Newcomer | Petronella Gaes
PAYER Insights: Interview langjähriger Mitarbeiter | Mathias Oswald
PAYER Insights: Interview Manager Marketing & Communication
At PAYER, we really appreciate the loyalty, passion as well as intrinsic motivation of our employees. We are ONE TEAM and reach targets together!
Learning is like rowing against the current, if you stop it, you drift back.
In comparison to other companies, at PAYER I personally got to know all of my Austrian colleagues and I really appreciate the family working atmosphere. Furthermore, the fun and joy of work are not missed out. I also had the opportunity to develop myself further within the company. I look forward to getting to know the personality of applicants. The more authentic we show ourselves, the more successful our future cooperation will be.
Passion is the best tool.
At PAYER you work as a team in a appreciative environment and at the same time you manufacture products for globally known companies – this combination makes PAYER unique. I have already completed my apprenticeship as a toolmaker at PAYER and I am now Head of Tool Shop in Austria and train apprentices by myself.
Stay true to your principles.
I have worked at PAYER China for several years, focusing on the introduction and implementation of new projects, which has allowed me to gain a lot of knowledge and experience in the personal care field. The development of a product from design to mass production is extremely exciting for me. I really enjoy working at PAYER, contributing to the team and serving our customers with optimal solutions.
Give your best and learn from mistakes.
My colleagues are always polite and nice and I enjoy the family working environment. I really like my job as well as the work at PAYER because I receive an overall insight into every manufacturing step. My competent colleagues support me all the time, if I need help or have any questions.
Better a few blisters than cold fingers for a lifetime.
I have been working with PAYER for more than 20 years and have gotten the possibility to develop further within the company for several times. I particularly appreciate this opportunity and it is also one of many reasons why PAYER is a really great employer. Furthermore, it was also exciting to see the progress of PAYER: from the razor manufacturer then to the manufacturer of special medical products today.
Actions speak louder than words.
I started working for the company several years ago and I really enjoy working with PAYER. We are ONE TEAM and we always work together like a family. Whenever I face challenges at work or in life, I can ask my boss and colleagues for help. Since PAYER is a multinational company, I have the opportunity to work with people from different countries. This allows me to learn about other cultures and improve my communication and language skills at the same time. Join PAYER, start a great career!
A chain is only as strong as its weakest link.
At PAYER I can develop personal care products for well-known customers from Europe, the USA, Australia and Asia – from the first sketch to series production. Even after 35 years working with PAYER and numerous product developments, it is always an exciting and challenging and – at the same time – very nice task for me to bring a product into production and launching it smoothly and competitively with my colleagues from Austria, China and Hungary.